A stock can be good or bad and still be an excellent short. These stocks are overbought so I'll be watching for declining volume, big offers, bearish intraday patterns or bad news to take a position. Stocks can remain overbought for quite some time, so just because they're overextended doesn't make them sure wins. If shorting isn't something you know how to do, but want to learn, sign up from my premium service and I'll teach you. To short stocks under $5, I recommend you setup an account at Interactive Brokers.
Rentech Inc. (AMEX:RTK) is coming up on some pretty solid resistance in the $1.35 range. The RSI is now overbought and historically, a 2 year chart shows its inability to hold these levels. I'll be watching close for declining volume or big offers. Based on the chart my guess is we're a little early to the dance still on RTK, but a $1.40 to $1.10 short seems like a reasonable idea at this point. Raystream Inc. (OTCBB:RAYS) is a pumper that's destined to come down at some point. Shorting just before the wash isn't easy to do on these pumps, but there are tell tale signs you can look for like declining volume, big offers or the first down day. Finding shares isn't always easy but there is no better feeling than being short when one of these types of plays collapses. See the Allezoe Medical Holdings (OTCBB:ALZM) chart if you want to know what I'm watching for. Ideal range on this trade is to catch the wash.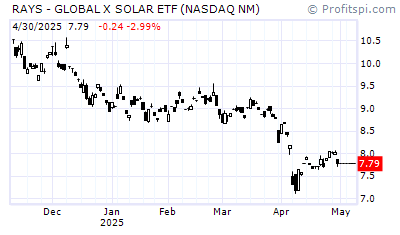 Ocean Power Technologies Inc. (NASDAQ:OPTT) showed some signs of weakness Monday. This is one I shorted early on in it's move with little success, but I'm watching again because it's now starting to get top heavy. Ideally the range would be short at $5 and cover at support of $4.
Pizza Inn Holdings Inc. (NASDAQ:PZZI) is in the middle of a bullish breakout. I'd expect a chart like this to run some more before pulling back, however, the last time it was overbought it retraced over $1 and that's exactly the type of range I'm looking for. Let this one continue to run for now, but once it starts to pullback it should make for a good day trade. Andatee China Marine Fuel Services Corp. (NASDAQ: AMCF) is an overbought China play, do I really need to go any further? The chart is one of the better setups as it's already showing signs of cracking. What I like about this is entry here give a clear and close stop loss at the recent high with a good chance of falling further. With support at $2.85 and $2.25, there's plenty of range if it dips. TranS1 Inc. (NASDAQ: TSON) was halted in after hours trading Monday and is the only stock on this short list that isn't overbought. It's going to tank tomorrow morning, already down a lot in the after hours, but you can bet a lot of traders have not seen the news yet meaning panic selling when they do. This one we'll have to play by ear in chat but I'll be looking for shares and a range in the pre-market Tuesday, however, there's a good chance we already missed the boat here.