NOTE:  This is a guest post from my good friend Ben Sturgill of DailyProfitMachine.com
—————————————-
When traders ask me what I look at – I tell them one thing..
I Follow The Money Flow
You see, nothing is more important than what the money is doing in the markets
It doesn't matter what technicals say, if there are no buyers, the stock will never go higher in price.
It's simply supply and demand.
And I've developed a proprietary scanner, where I can track these orders right when they hit the markets
In times of higher volatility, many traders struggle to find a strategy that works, but I found my edge in the dark pools…
Recently, I've pulled down some of the my career record percentage gains*
Just check out some of these recent trades:
NIO – 500% gains in two weeks!

SPWR – 150% gains in two days!

MARA – 300% gains in four days!

MSFT – 125% gains in one week!

UPWK – 100% gains in two days!

DKNG – 200% gains in one week!
You see, this back and forth of the markets creates trading opportunities
And I've been finding that traders are flocking to specific sectors in anticipation of a new president
Now, I don't want to speculate on what could happen…  I want to follow what these funds predict the markets will do next
And that's why I've focused on hunting momentum in the dark pools and have been landing lunker-size profits trade after trade.
New traders struggle with information overload when it comes to learning how to trade.
From position sizing, risk management, to finding stocks to trade, there is never a shortage of material to read
And many people learn the same basics about moving averages, candlesticks, and broad fundamentals… But never what supply and demand really means.
You see, this is a hidden edge, kept far away from the public.
This is because the big institutions are afraid they will lose money
So, How do I find these trades?
I started with these 4 questions that I had to answer first:
Have I seen this stock trade in the Dark Pools lately?

Is the dark pool volume larger than its average?

Are there any large single dark pool trades?

Are there any Intermarket Sweep Orders?
Now for me, I found that the more boxes that are checked off the list, the better signal there is for the dark pool scanner.
Check this out to see how I found a 500% winner in NIO just by scanning the Dark Pools
Hidden Momentum In The Dark Pools
When it comes to the basics of trading, supply and demand gives me the edge I need 
And this is the strategy that I want you to be a part of
A strategy that you shows you how the 'smart money' flows around the markets
This strategy is jam-packed with daily research of stocks and monitoring the trading activity on every stock..  
My goal is to get into trades following the dark pool traders and exit with a 100%- 200% profit in just a few days!*
Now, I know you are wondering… Does this even work?
Well, I think it does!  
Just check out some of these huge wins I've had recently
Still don't believe me?
Read it and weep…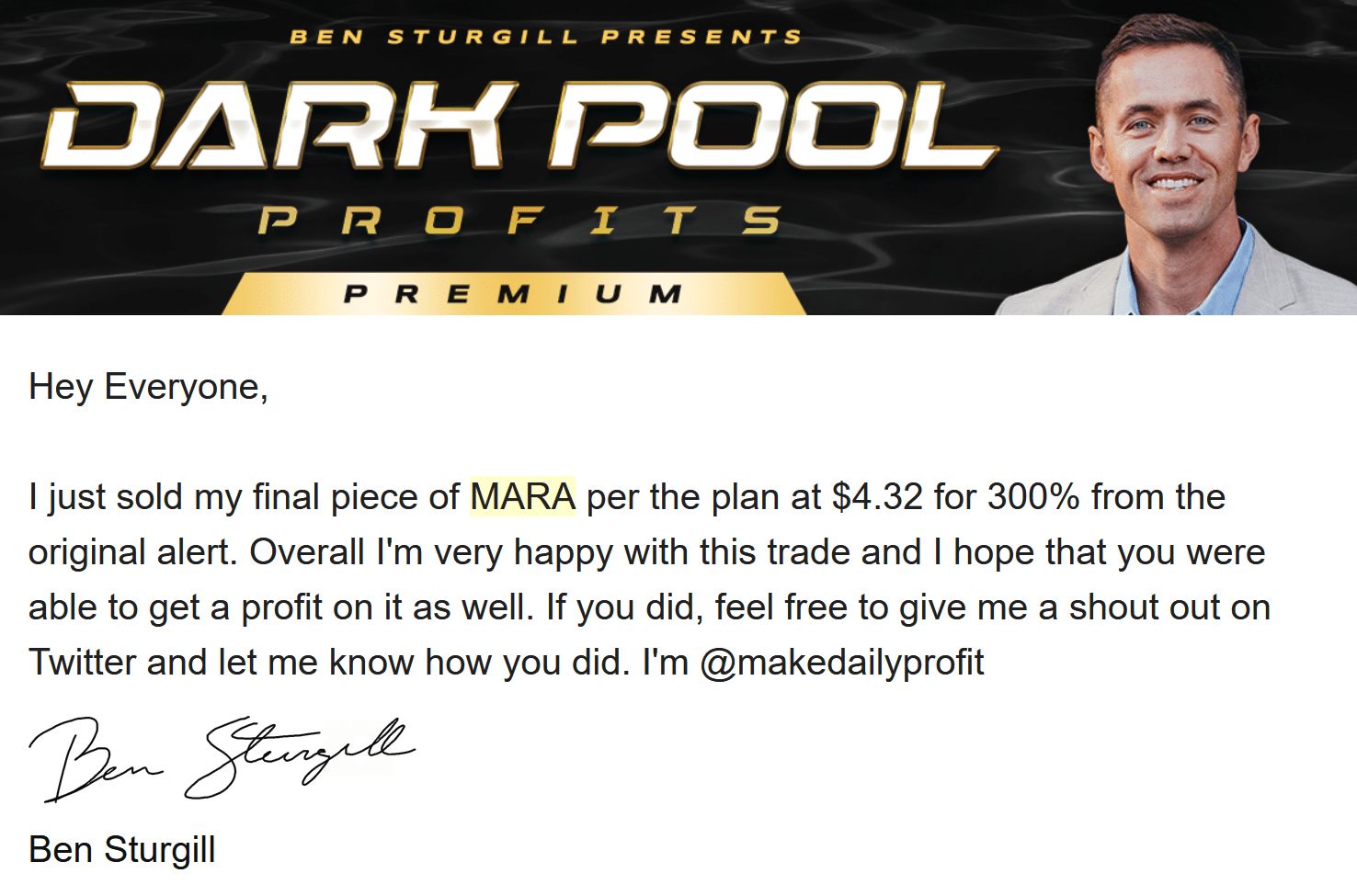 *Mic Drop*
You see, these trades simply come to you
Once you learn how to read the dark pools you will never go back to reading technicals
How Did I Trade MARA? 
Hint: It Involves Money Flow and reading the dark pools.
You see, the dark pools may have given away the direction of one of my largest trades WEEKS BEFORE it actually hit
From the scanner, I noticed a few things that were happening that were out of the ordinary for this stock
Something must be going on in this stock that has the hedge funds getting excited to put huge money into this stock
Then I broke down and analyzed this trade using my 4 step process 
MARA hit the dark pools repetitively and caused a tremendous amount of momentum on this stock.  

On Friday, I saw 10 million shares hit the dark pools

Increasing volume and sideways trading into momentum moving averages signals a break out as buyers pile back into this trade

Large trade blocks start to come in, growing in size each time

Intermarket sweep orders, or the "I want it now" order type that traders use to fill their shares started to come in and move the stock around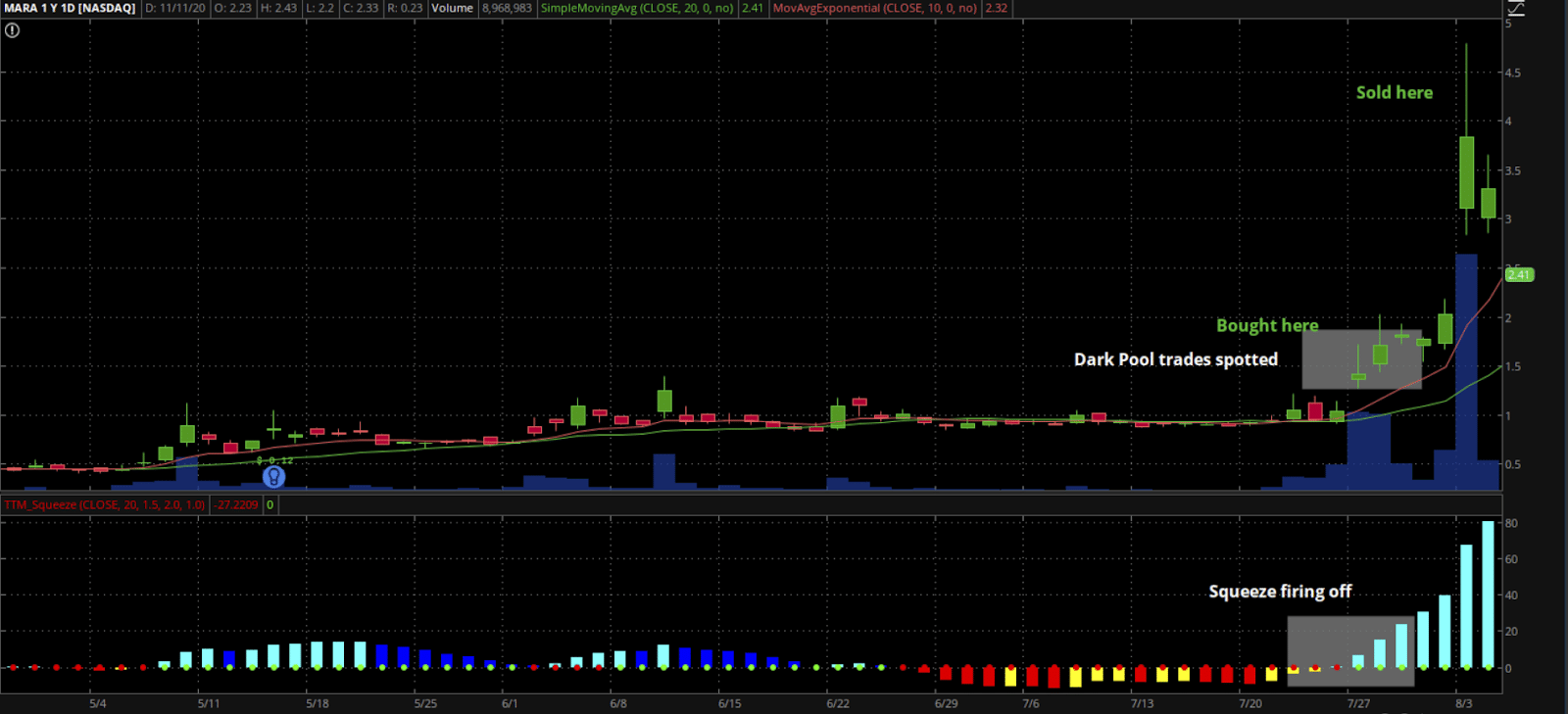 But Wait… There's More!

I believe that if you don't keep growing, you will fall behind 
And this is applied to life and my trading
Recently, I've expanded my offering to give traders a first hand look at the stocks I'm watching at any point
This means Dark Pool Profits subscribers also get access to my LIVE WATCHLIST. 
This is a brand new feature, a dynamic watchlist based on dark pool activity, in real-time.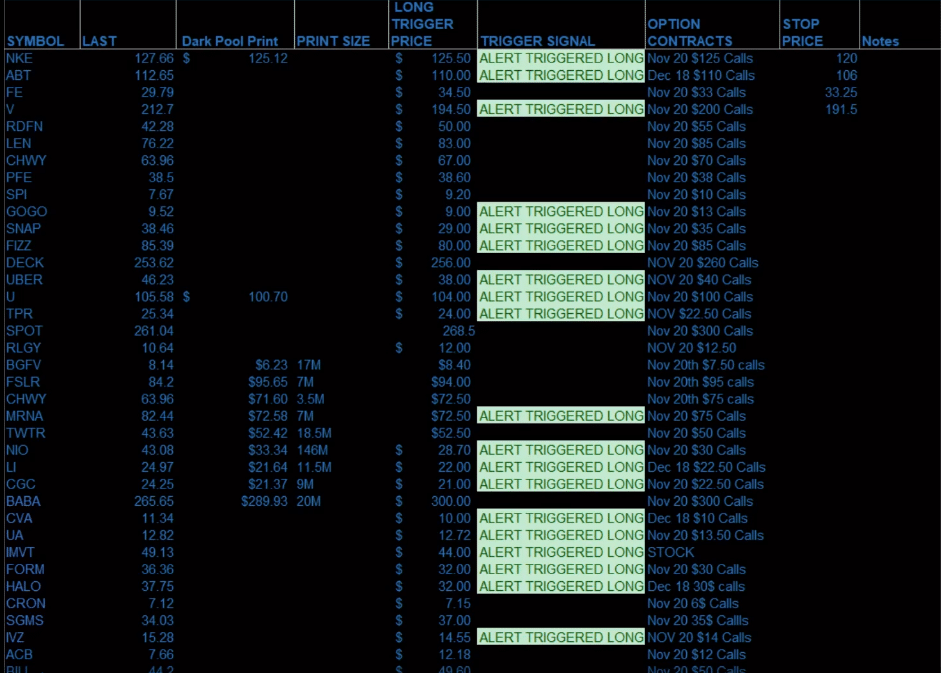 Why do I feel this is valuable?
First, it's valuable because it helps you focus on stocks that I'm focused on
Second, I take trades off of my watchlist, so you will have access to look at the same stocks that I do every day.
And this means that at any point… you could be looking at the next stock price explosion on your screen right now
[Want to see what stocks I am currently trading?  Click here to learn more]
I continue to monitor the Dark Pools for more and more of this trading activity every single day
And I will alert my members of Dark Pool Profits first when more trades like these come around and hit the markets.
So if you don't want to miss the next trade like this that could land you a 500% profit …
Sign up now to Dark Pool Profits and learn how the dark pools can take your trading to the next level