Down doesn't always mean out on Wall Street. These 5 small caps are well off their 52-week highs but have multiple catalysts that could make for profitable short term trades provided you get you entry and exit right. Something my members and I do about 70% of the time. When playing poker in Vegas, it's not always about the hand you have, it's how you play those cards that makes the profits add up.
Plug Power Inc. (NASDAQ: PLUG) has been slowly working its way back up the chart from a low in August at $1.35. They are a leader in providing clean, reliable energy products and had news out this morning announcing their next generation GenDrive fuel cell products aimed at improving reliability and performance within customers lift truck fleets. The company is located in Albany, so not far from my home, but I can't say I've visited yet. Technically I'm watching for a pullback before swing trade entry as it is up 46% from its low on 10/4 of $1.50. With a market cap under $50 million and a 52-week high of $10.70, a break of the $2.50 to $2.60 range should signal the next leg up.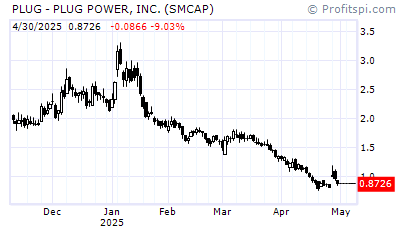 Agfeed Industries Inc. (NASDAQ:FEED) is currently dealing with a class action lawsuit and recently received a delisting notice because the stock has fallen below $1 per share. I'm simply looking for a day trade here if/when it reloads off this recent move up the chart. Clear resistance can be seen at the $1 range so any reload and run off $.71 support makes for a nice 20-30% gain. LDK Solar (NYSE:LDK) is in a clear downtrend making lower highs and lower lows since its 52-week high at $14.97. Solar has of course been cold for sure, but it's certainly a sector that could heat up. In addition, LDK short interest is extremely high right now, any good news out of the company and a squeeze could follow. With support at $2.55, I'm looking for entry above there giving me a tight stop loss and therefore good risk to reward. Resistance is at $3.25, $3.50, $3.65 at which point it could breakout to $4.52. JBI Inc. (PINK:JBII) is a company with their fair share of problems to say the least. From class action lawsuits to a Wells Notice, the Buffalo based company is constantly in the negative spotlight and can't seem to get out of its own way. Recently shares feel below a dollar for the first time since April but then bounced 78% illustrating how profitable these problematic stocks can be if you time them right. I've traded JBII long and short for over $3,000 in verified profits over the last couple of months, never losing on this stock. (Click here to see those JBII trades) The company has put out good news in the past, like their deal with RockTenn in August so I'm watching to see if consolidation can hold this $1.70 range before the next leg up, otherwise I'll consider this as a short opportunity. Resistance is at $2 followed by $2.93 with support at $1.40 followed by $1.00. Mad Catz Interactive (AMEX:MCZ) is down and out right now but this little company can get hot on a moments notice. With double bottom support at $.55, I'm willing to try something between there and the current price of $.68 short term with a goal of $1.00. In my experience triple bottoms never are, so I really need to see it hold this arm to give it a try. Entries and exits sent by Skype, text message and email to my premium subscribers.