Time to look for metal stocks and there are quite a few breaking out to new levels, some of which you should know already from previous trades. Here are the details as to why I like them.
EXK broke major resistance at $10.30 which opens the door to the $12.00 range with very little in it's way. Earnings are coming out on 8/1 so there is definitely a runup play here too.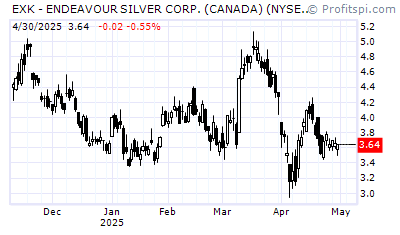 PAL made a monster move considering its market cap and there is a very good chance this will see the mid $5's soon. Support is at $4.45 making the risk reward solid. Earnings are 7/21 which makes this even more interesting. I'd never hold through earnings but the Moody's news plus a runup could make for an easy win if it continues today.
HL resistance is around $8.80 followed by the mid $9's. With support at $8.28 the risk reward is good here. Earnings are 8/4.
GPL is getting very bullish breaking out past resistance and should be on it's way to $4 again. That however doesn't provide a huge trading range so it'll require a big position or a break of $4 which opens the door to $4.40 and I think that's reasonable. With a tight stop at $3.80 the risk reward seems worth it.
Technically I like MCZ here. It pulled back to the MA(20) and turned back up which leads me to believe it's heading up from these levels. Confirmation today is key but I'm already in from yesterday's alert. If you were on the fence and watching still I'd say holding $1.41 support is key with resistance at $1.60 and $1.80.