Asia was mixed, Europe is mixed and futures are slightly lower. With a lot riding on the summit meeting Wednesday, I'm targeting a few overbought stocks that could fall $.50 per share or more if the bears come back to Wall Street this week.
SMF Energy Corp. (NASDAQ:FUEL) is up over 100% since July and its latest move from $2.40 to above $3.00 is starting to show some weakness on declining volume. If this bull flag can't hold up, I'll look for $.40 cents a share down to support around $2.60. The Relative Strength is overbought above the 70 line and trending down. Tiny market cap of $25 million makes it very volatile. Last time it was overbought was in September and it pulled back $.54 top to bottom. Raystream Inc. (OTCBB:RAYS) is a pretty looking pump to line up as a short. While the pump is strong I'll stay away, but when RAYS starts to show signs of weakness I'll move in for a big score. Right now the Relative Strength is extremely overbought and the MACD is curling down toward the signal line for a bearish break on declining interest. Only so long before it dumps so it's all about timing. If you're looking for other example charts on pump dumps, pull up Jammin Java (OTCBB:JAMN) and you'll get an idea of why I'm watching this one.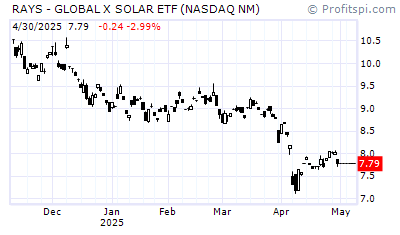 Pizza Inn Holdings (NASDAQ:PZZI) is the perfect example of what I look for in day trade short position. Originally put on short watch last Monday due to overbought status, we're now starting to see some profit taking here. With a short range of over $1 down to support of $3.50 and still overbought, I'm watching the markets close on this one.