With this choppy price action in the market, I believe it's important to adapt and utilize strategies that can help you navigate the market.
So far with my momentum trading strategy, I generated more than $40K in realized gains so far in September, as of yesterday's close.*
I've been trying to trade only the best setups out there, and that's helped me improve my trading performance.
For the most part, I've been focused on momentum stocks — and since I've expanded my trading universe, some of these are higher-priced stocks.
Now, since I don't want to miss out on these opportunities, I have to utilize another strategy — one that allows me to be efficient with my capital, stack the odds to my favor, and better manage my risk.
Let me show you what I'm talking about.
This morning, I mentioned a few names on my radar, and a majority of the stocks were pretty expensive. Of course, if you're used to trading stocks… you probably shy away from stocks with a high price tag because it can eat at your buying power.
So what's the alternative?
Well, with higher priced stocks, I focus on the lower priced call options. However calls have time decay, sometimes I sell a bull put below as well, to collect premium I'm losing on the call options as I wait to see if the continuation pattern materialize.
What I mean by that is I utilize a bull put to help me collect premium if I believe a stock can hold. Typically, I'll look for areas where there's like to be demand for strike price selection.
This way I can still put myself in a position to generate returns, even if the calls don't work to my favor.
When I utilize this strategy, I try to start in the money (ITM) on the call options because it helps to lessen the decay and going 6-8 weeks out slows it down too, because options decay faster as they approach expiration. 
Continuation patterns are becoming my favorite way to trade with momentum plays. It's truly just the same thing I taught for years on small cap momentum but applied to mid-large caps using the lower priced call option and playing it directionally. 
For example, this would be an example of a continuation pattern.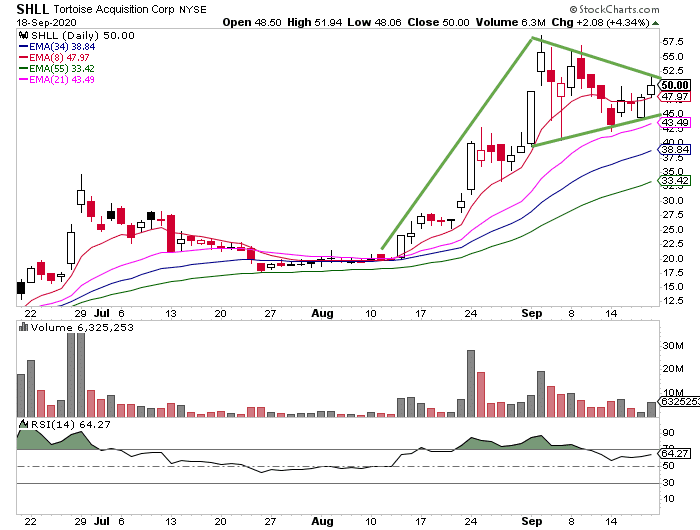 The price action is pretty simple for me to uncover.
I look for stocks running higher that have started to consolidate, then I plan accordingly.
Now, if you want to find out how my chart patterns work, and want to receive my latest "weekend" stock picks, click here to get all the details.