Glu Mobile (NASDAQ:GLUU) is set to report earnings Thursday after the market close. I played it last week for over $1,000 profit on the long side. I'm short biased this week due to all the resistance around $3.10 to $3.20. With futures down this morning I'll be looking to make a day trade or two this week and go long if they rock earnings Thursday. Ideal entry for me going short is $3.18 with cover goals around $2.88, $2.71 and $2.66. Friday will be interesting for GLUU because if they can beat the Street I think we'll see a break of $3.50 resistance sending GLUU into a new trading range. I like this company and think their long term outlook is worth watching closely. I'll be looking to trade GLUU again Thursday in the post market or Friday once I read their report. Local.com (NASDAQ:LOCM) is set to report earnings Wednesday. Shares are up about over 50% from the recent low of $1.99 and the Relative Strength Index is starting to get close to overbought. I traded LOCM recently from $2.25 to $2.70 for a nice 20% profit and just missed picking up the $2.40 consolidation. At this point I'm watching to see if shares hold the $3.00 range into earnings. There is already some improved guidance out there so if they wow the Street we could see shares pop back into the $4 range. I don't swing trade through earnings so I'll be watching for their report Wednesday and trade it according. If they miss, then I'll be short biased down to the $2.50 range which shows support from the 50 and 20 Moving Averages.
Coffee Holding Co. (NASDAQ:JVA) has pulled back off its most recent run from around $7 to $15 settling around $10 before making the turn. With support at $10.61 I'll eye up entry and if I find one I like, I'll look to play it long between the 200 Moving Average an the 50 Moving Average or $10.61 to $13.64 respectively. A break of $14.73 – $15.00 would signal a bullish move up to the $18.00 – $20.00 range. A drop below $9.55 and JVA will be moved to my short list because that's the recent low.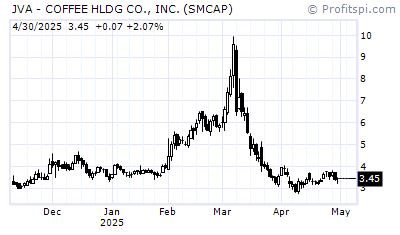 Yahoo Inc. (NASDAQ:YHOO) is pulling back this morning as expected with Nasdaq futures pointing lower. Surrounded by buyout speculation still I'll be looking to swing YHOO around $15.50 if it dips that far and depending on the market I might actually wait for $15.00. Last weeks double cross of the 20 and 200 Moving Average is considered a bullish sign but shares are getting close to overbought with a 63 reading on the Relative Strength Index. It is important to note, however, shares can remain overbought so long as accumulation continues to rise and with all the buyout speculation, that will likely be the case as big short sellers will be cautious ahead of any major annoucement. NVIDIA Corp. (NASDAQ:NVDA) is set to report earnings next Thursday. With the holiday season right around the corner I'll be looking to trade NVDA long into earnings as bulls speculate on the future outlook. My target entry is technically based at the 20 and 50 Moving Averages of $14.54 and $14.03 respectively with a goal of a breakout above $16.10 before earnings.