Yesterday I showed you an alternative approach to trading Tesla Inc. (TSLA).
It's one of my favorite options strategies to use, especially on high-flying, high-dollar tech stocks such as TSLA, AAPL, AMZN, and GOOGL, to name a few.
Of course, I've been teaching traders for a decade — and if you don't know by now…
I put my money where my mouth is when it comes to my strategies.*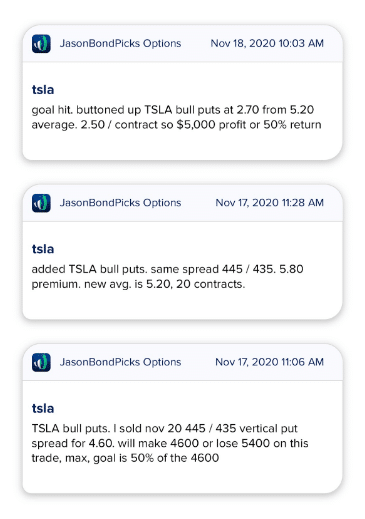 That said, let me show you the details behind this trade, and how I was able to lock in about a 50% overnight.*
Let's face it, we all want to trade these tech stocks… but for retail traders, they're just too expensive. I mean take a look at TSLA, the stock is well over $450 per share. That means if you wanted to purchase 100 shares, it would cost a whopping $45K!
I know a lot of people don't want to drop that much on a trade, and I get it. It's a capital suck and it can cause you to miss out on other trades.
So what's the alternative?
Well, yesterday, I mentioned how selling a put spready would be advantageous.
Here's what I noted…
TSLA of course is all the rage today and I think, based on the pattern, $500 isn't out of the question. So my goal is to sell $450 / $440 or slightly lower for $4 premium if it dips a little into some gap recovery today. Expiration for this Friday and next Friday make sense to me here. 
I would like to make both of these trades today and will keep you posted if I'm able to get the premium I'm looking for. Nasdaq is light green this morning with the Russell, Dow and S&P all light red.
I'll be looking for my TSLA entry early, assuming there's some gap recovery
Now, I actually had to switch my plan a bit.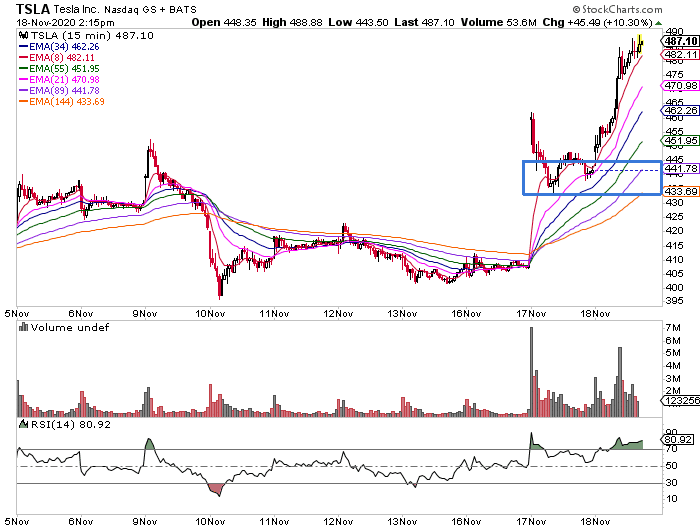 You see, after TSLA pulled in, the initial puts I was looking to sell were actually somewhat in the money, and I believed it was less risky to sell the $445 / $435 put spread expiring on Friday.
So what that position allowed me to do was establish my bullish position in TSLA.
Basically, I believe the stock would stay above $445. Now, that doesn't mean I have to hold onto the position the entire time.
As shown earlier, you can see that you don't have to hold until expiration date and you can exit the trade whenever you want.
I just so happened to take off the position for a 50% winner. If I had held longer… it could've been a lot larger, but that's just how trading goes.*
The next time you see an expensive stock and you're bullish on it…
I think you'll want to keep this strategy in your back pocket.
Listen, I don't show you these gains to brag. I truly want to show you what's possible and just how much opportunity is out there.
I get it though. It's hard to come up with trade ideas and learn how to develop them.
That's why I decided to slash the price of Rooster Report, so you can receive my single best trade idea every day. With these trade ideas, it's a different learning opportunity every day.
If you're serious about learning the ins and outs of my trading style, you'll want to join Rooster Report now.
After you join, you'll get onboarded, so make sure you take a look around… then be on the look out for my next Rooster Report Trade Idea tomorrow.