Well, it's official. Tesla Inc. (TSLA) will be added to the coveted S&P 500. 
If you missed out on the news yesterday, there was money to be made. Heck, Jeff Bishop rattled off a $37.5K winner on it.*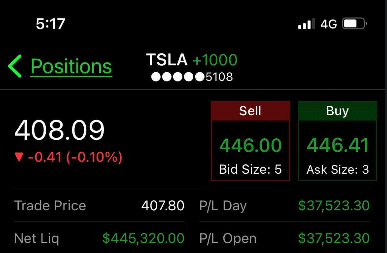 Jeff Bishop is going LIVE at 2 PM ET to reveal 5 stocks he wants to buy this week.
This is a rare event that you don't want to miss out on. Here's your VIP access link.
Now, I'm not telling you this to make you have FOMO and jump into TSLA for a potential play. I actually want to teach you a unique way to trade these high dollar stocks and play the momentum.
To be quite honest with you, it's one of my favorite ways to trade options on tech stocks.
Let me draw back the curtain and show you what I mean…
TSLA being added to the S&P 500 is a big catalyst for the company. You see, this means that ETFs would have to buy shares of TSLA to reflect this change. In other words, traders are expecting more demand for the stock.
Right now, I don't think $500 is out of the question for TSLA.
Of course, I want to pair this catalyst with one of my favorite chart patterns. If you think large-cap tech stocks don't move off chart patterns, I'm sorry to tell you, but you're mistaken.
Right now, TSLA has an ascending triangle pattern setting up.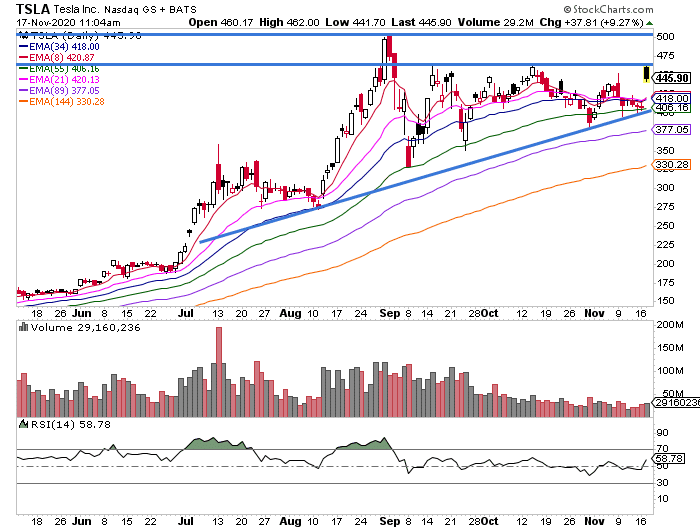 Typically, when I see this setup, the stock breaks above the resistance level and runs higher. However, with this massive gap up, the stock can actually dip into the gap today.
So one way to play this would be to sell a put spread, if one is bullish on the stock.
Here's what I sent out to subscribers this morning…
TSLA of course is all the rage today and I think, based on the pattern, $500 isn't out of the question. So my goal is to sell $450 / $440 or slightly lower for $4 premium if it dips a little into some gap recovery today. Expiration for this Friday and next Friday make sense to me here. 
I would like to make both of these trades today and will keep you posted if I'm able to get the premium I'm looking for. Nasdaq is light green this morning with the Russell, Dow and S&P all light red.

I'll be looking for my TSLA entry early, assuming there's some gap recovery
Since this is TSLA we're talking about here, I want to remain patient. Whatever I do with this trade, my subscribers will know once I make them.
Listen, if you truly want to learn my style of trading, first, you must understand how to recognize patterns.
Inside this workshop, you'll discover how I attack the market utilizing my two favorite chart patterns… and uncover small-cap momentum stocks set to take off.
After attending, I believe you'll be shocked at how these patterns not only pop up in small-caps, but stocks of all sizes.
Disclaimer: I have a bull put spread on TSLA
WE MAY HOLD SECURITIES DISCUSSED. RagingBull has not been paid directly or indirectly by the issuer of any security mentioned in the Services. However, Ragingbull.com, LLC, its owners, and its employees may purchase, sell, or hold long or short positions in securities of the companies mentioned in this communication.