I just made another $1,000 trading COOL yesterday and I'll be back in soon. Support has been established at $2.30 so when this run settles, that will be the entry I look for. With earnings coming up on the 12th, I want to be in sooner versus later to catch what I suspect will be a runup. Resistance is at $2.62 and $2.81 before the $3 range comes into play. I expect this stock to produce good earnings down the road and trade much higher.
GLUU recently put out good earnings in a bad market and since there was some runup involved, the drop accelerated even more. Now shares are rebounding with the broader indexes and if that continues GLUU will be trading in the $4's again soon. With resistance at $3.36 and $3.66, I'm looking for a better entry off the $3.10 range before grabbing a position again. Today's market might afford me that luxury considering futures are down.
QPSA made a move off the bottom yesterday and as you know, it's been on my watch so I'm disappointed I missed the bottom. I have a small position heading into today's session at $5.14 looking for a gap and run, but the way futures are shaping up, unless we see news, I might have jumped in too early. Bad earnings brought it down, but they are capable of trading much higher, especially considering the major deal they announced recently. Regardless of today's trade, I'm looking to trade QPSA into September. FLWS has earnings out this morning. It's up with the overall market and there is likely some runup involved here too. I'll go either way on this trade but right now I'm thinking short based on their earnings report. It has resistance at $2.78 and $2.88, so if the market is down, the downside is more attractive here with price action support in the $2.30 to $2.20's.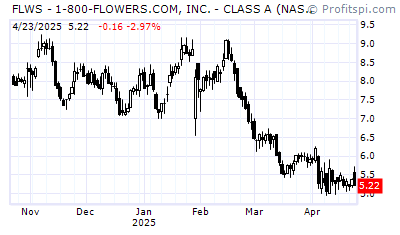 JBII I'll trade either way, but I won't hold it overnight long due to the risk of an SEC halt with all the pending investigations. My bias is short, but there is a lot of support just below so I'll need a big catalyst to scare the shareholders out. On the same token, this stock has a massive message board following that are just looking for a reason to pour money into this stock, so if good news hits I'll scalp it – resistance to the upside is $2.02, $2.47 and $2.93. YRCW retraced a Friday and Monday. Now I'm watching to see if it makes another run. Check out the COOL chart if you're looking for an example of this bullish consolidation pattern. The PM Level 2 leads me to believe it's coming down, but it's on my watch for another bull run. Resistance is at $.74 and $.95 with little to no support until the $.50's. RENN is pretty much at support, so baring any devastating news or a smear campaign it should be heading up. Only question is, what support do you want to purchase at! Resistance is at $7.64 and and $8.74 with good support in the $6.60 range which is where I'd like to pick up my shares. There's a good chance I'll get in sooner though, possibly off of $7 with a tight stop. BAC continues to have the volatility of a small cap, so I just continue to scalp this stock daily while watching my other trades. If you're unfamiliar with the strategy of scalping, Investopedia is great source of free information. Yesterday I played it long when shares broke the HOD for example. This is a daily assessment and if you want tips on this one you'll need to be in chat.