The markets and therefore stocks are at a pivot point. We're either looking at a break of the channel we've been in since August or a pullback. Good earnings out of Google might be the catalyst we need to send this market into an uptrend again, especially with Apple and Baidu set to report Wednesday and Friday next week. I'll be watching close and we'll swing long if it goes or start the short process again if it heads back down to the bottom of the channel. Here is what I'm watching for upcoming swing trades.
Accelr8 Technology Corp. (AMEX: AXK) has a $32m market cap and is coming off a double bottom at $2.33. It's been in a channel between $2.30's and the $3.50 range. Currently priced at $3 I'm looking at starter position soon because I think it could break out of this trading pattern. Light on volume and  small market cap means I'll be looking to fill bid side here and trade into the next wave of buyers. Support and resistance are clearly seen in the channel, so this one is very easy to read. These guys develop innovative materials and instrumentation for advanced applications in medical instrumentation, basic research, drug discovery, and bio-detection. TeamStaff Inc. (NASDAQ: TSTF) is showing us a classic continuation pattern on increasing volume. There is now good support at $2.10 and even better at $2, previous resistance. Moving forward I'm looking for a bull flag pattern to develop under $2.40 and then I'll time my entry for the next phase up. Shares are above all 3 major moving averages, which is a very bullish sign. These guys specialize in providing high quality healthcare, logistics, and technical services to Federal agencies and the Department of Defense i.e. recession proof business model. Market cap is a little smaller than I normally like, well under $100m at $13m, so sizing in on the bid will be the preferred method of accumulating a position when I act. STMicroelectronics NV (NYSE: STM) is a stock we traded recently for solid gains. This is a strong company with the potential to rocket back up the chart when the markets come alive again. Capable of putting up huge news on any given day, I'd like to get a position again off support at $7 and ride it for $2 – $3 per share long. Tight stop at $7 makes it a good trade risk to reward, although it does tend to gap down and up with the market which is why timing the broader market here will help significantly. With no real resistance until the gap down range around $9, it's not hard to see why this trade is appealing.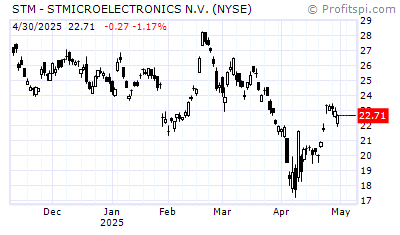 Local.com (NASDAQ: LOCM) was alerted to my premium subscribers at $2.25 which is where I bought, currently $2.37 and I'm still in. The current reported short interest is above 10 days to cover and the last time it was that high after a major pullback, I managed to make over $6,000 when it squeezed late one Friday just before the closing bell. This chart setup is very similar, so I'm trying to game the illiquid stock for a short squeeze again. Support is at $2 with resistance at $2.45 followed by $3. If I see big bids walking it up today and a bull market, I might add 5k shares to my position just like I did last time. See that creeping action on the chart??? Shorts hate that and sometimes when a big short covers a lot at once others are forced to cover as well and they trip on each other driving the price up for a short period of time which is where we sell into their panic. Sirius XM Radio Inc. (NASDAQ: SIRI) was a simple trade off the $1.40 level but it's also good off the $1.60 level which is where I'll look to take a big position in a bull market. Then if it's able to get past $1.90 to $1.95 I'll look to take profits in the next range between $2 and $2.30 long.