No matter where I look in the market, I don't see an area hotter than small-caps.
I mean every day, there are multiple movers to take advantage of. However, a lot of traders shy away from trading these fast-moving names.
I get it though.
They think:
These stocks move to fast and it's hard for them to catch a move

Small-cap stocks are a lot riskier than trading large caps

Just because they're smaller companies and not household names, they shouldn't trade them

If they trade stocks with a market cap less than $2B, they can ruin their trading account
The problem is most traders don't know how to trade these stocks. They don't know what to focus on, nor do they know how to identify these plays.
Typically, what happens is they'll try their go at small-caps because they heard their friend talk about it or they see the stock gapping up big.
They hit the buy button right away, and watch the stock go against them until they hit their pain point… then take a loss.
After that, they're done with trading small-caps.
If any of this sounds familiar to you… listen up.
I believe there's a simple fix and once you discover what it is — you may want to stick to trading small-caps and ignore other areas of the market.
That said, I want to give you an inside look at some of the techniques I use every day and how I identify small-cap stocks before they rocket higher.
When it comes to uncovering the next hot mover, the key is to look at chart patterns.
I know what you're already thinking…
"Jason, there are thousands of small-cap stocks… how in the world am I going to be able to look through all the chart patterns? Also, I don't know where to start!"
Well, I actually live stream a scanner I use to uncover these plays. By narrowing my focus to gainers on a given day, I can identify stocks that can continue to build momentum.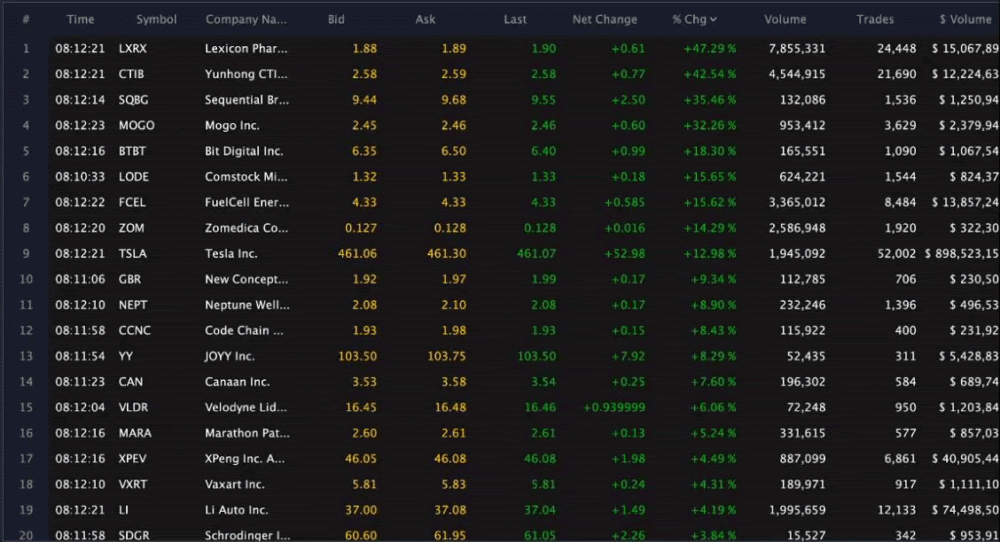 For example, check out the screenshot above. 
These were stocks gapping up in the pre-market, which means I can actually plan trades ahead of time.
By getting up early and identifying potential momentum stocks to trade, I'm able to identify key levels to watch and better manage my risk and target areas.
Not only that, but this actually allows me to put the pieces of the puzzle together.
For example, the digital asset market is going bananas right now. There are specific stocks with exposure to cryptocurrency.
Two stocks that came up on the scanner today are Canaan Inc. (CAN) and Marathon Patent Group (MARA).
Two Small-Cap Stocks To Watch Right Now
So the first thing I want to do is look at the chart.
Let's check out Canaan Inc. (CAN) first.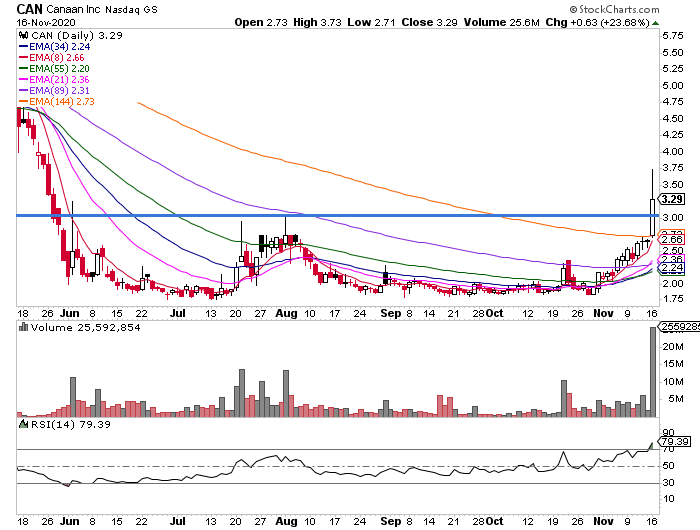 The stock rocketed higher on Monday and broke above a key resistance level at $3.
Keep that level in mind because it's important.
Check out the hourly chart now.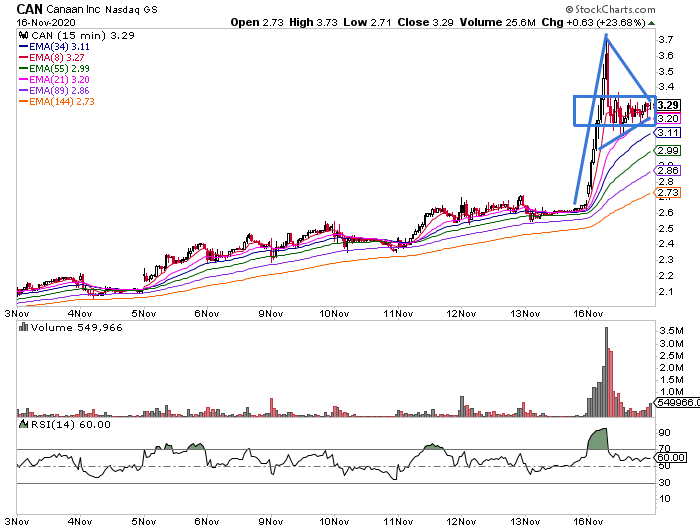 That's actually one of my favorite setups — and typically, when I see it (the bull flag / pennant pattern), it signals to me the stock can run higher.
So one way to play it would be to purchase within the consolidation area (the flag / pennant). With this setup, it's between $3.15 – $3.30 or so. If I want to be aggressive, I would look to buy around $3.40 – $3.50 for a 10-20% move.
The stop would be below that consolidation range, or one could use below $3 as a stop if they are comfortable with the risk level.
Next up, we've got MARA.
On the daily chart, it's got a nice triangle pattern forming.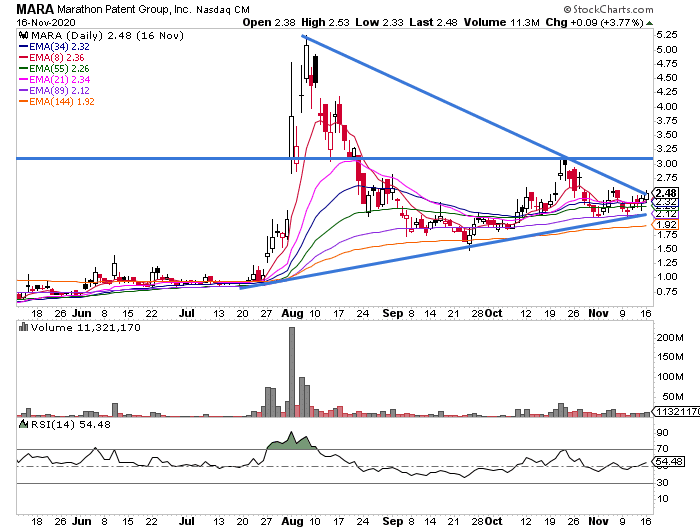 If the stock can break above $2.60 – $2.75, I think the stock can make a move to $3… and above that, the stock can potentially retest August highs.
Listen, these stocks move fast, and the key is to identify them ahead of time.
If you're serious about putting yourself in a position to make money off small-cap stocks, then you must attend this training workshop here.
You'll learn how I'm able to uncover momentum stocks before they take off.
You do not want to miss this. Now's the time to learn how to trade small-cap stocks.