Small-cap momentum stocks have been popping off…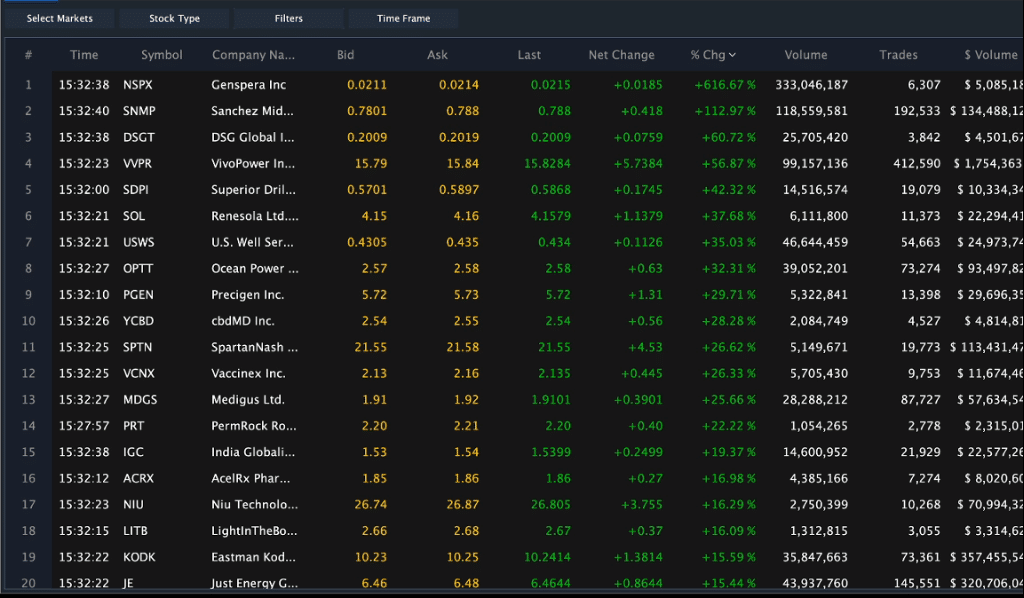 And every day, I'm on the hunt for these plays because I believe if you can identify them ahead of time, it's possible to uncover some fast movers…
Take a look at the chart below.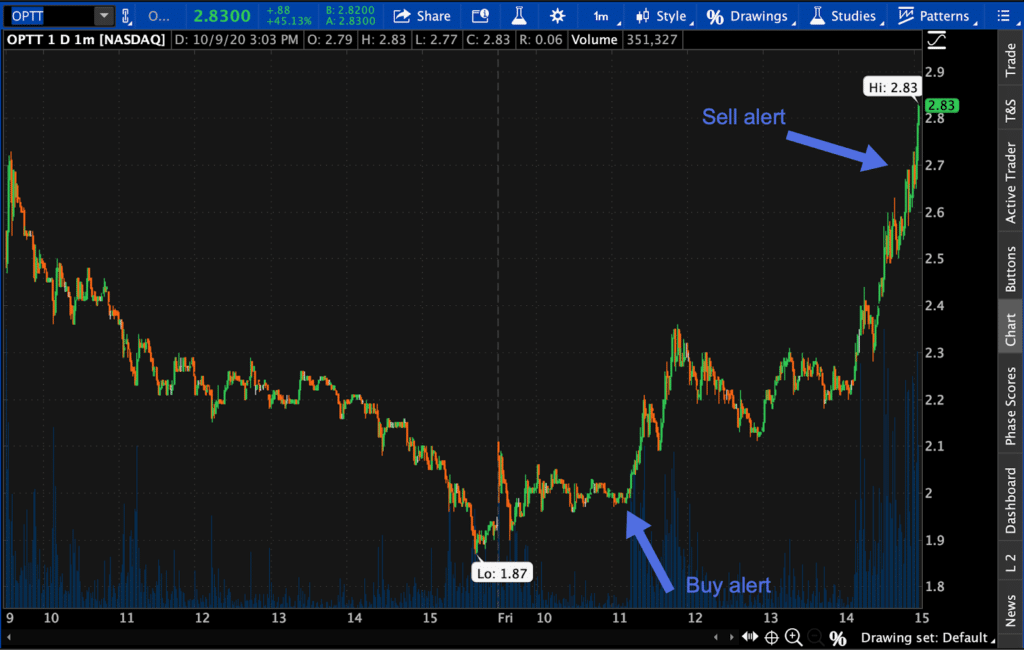 This is one stock my chart pattern spotted, and I teach subscribers how to uncover these setups.*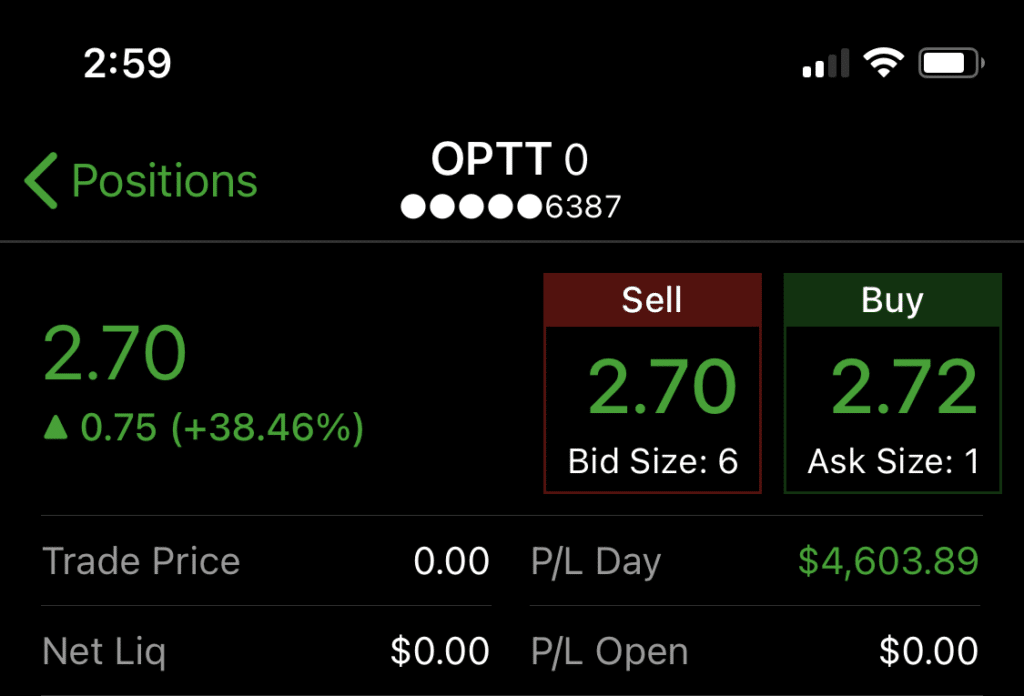 That said, let me show you which momentum stocks I've uncovered utilizing some of my favorite techniques…
And why I believe they can pop off.

Last week, I mentioned to keep an eye on WWR, and it exploded… spiking from $4.80 to more than $12 at one point. This week, I've got some interesting plays with some of my favorite setups.
Vivopower International (VVPR)
VivoPower International is an international solar power company that serves customers worldwide. VVPR manages solar power assets to provide commercial, industrial, and government customers with renewable energy

On Oct. 9, the company announced a deal to buy a majority stake in Tembo e-LV, a Netherlands based EV company. VVPR will also have an option to buy the remaining 49% of shares.

The stock gapped up from $10 to $15, and rallied to the highs of $24.55 intraday. This news could be a game-changer for the company, and I don't think the run is over just yet.

If this stock pulls into some critical Fibonacci retracement levels, I believe there will be some pretty attractive risk-reward opportunities.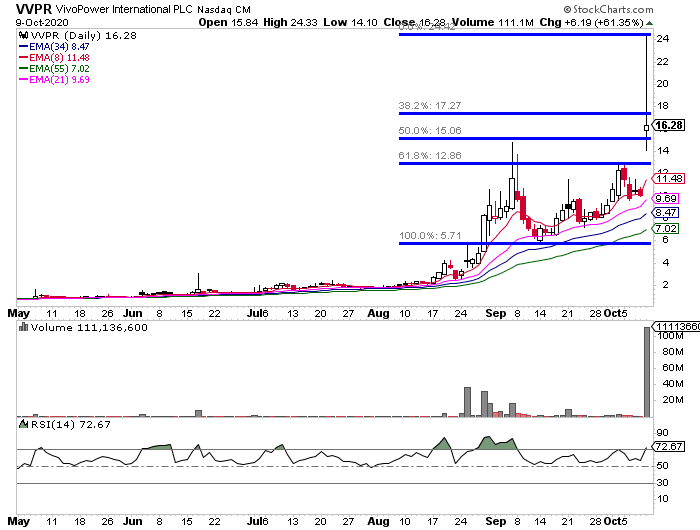 VVPR closed just above the 50% retracement level, and if there's another pullback, I'll be keeping an eye on $15.06 and $12.86 as potential areas of entry.
Next up, I've got another solar play.
ReneSola Ltd (SOL)
Another alternative energy play with huge potential is

SOL

. The company focuses on solar power project development, construction management, and project financing services.

On Sep. 29, the company announced a joint venture with a German peer Vodasun to develop and market solar projects in Germany.

ReneSola reminds me of JinkoSolar, another Chinese alternative energy company. However, SOL's market cap is $182.3M, less than 8% the size of Jinkosolar's $2.765B
I think this one is a sleeping giant, and I can't afford to miss it. I want to keep an eye on this one if it dips. The 50% and 61.8% retracement levels look pretty attractive from a risk-reward standpoint (the prices are $3.24 and $2.98, respectively).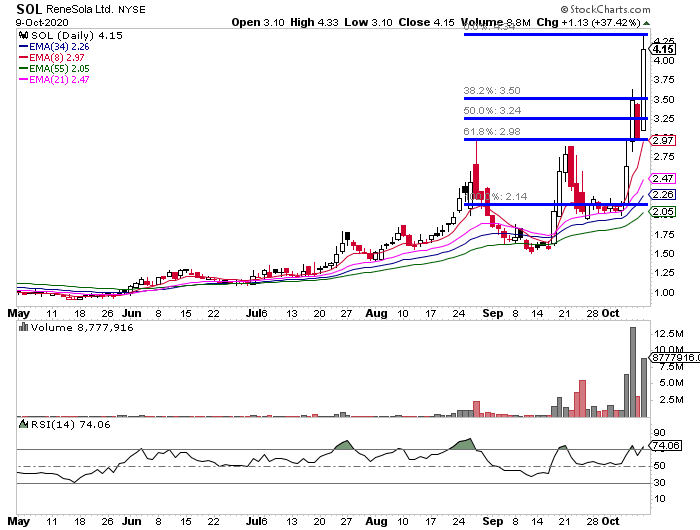 Last up, there's Bed, Bath & Beyond (BBBY). Although it's technically not a small-cap, I want to show you that my patterns don't only work with small-cap stocks but also stocks of all market-caps.
Bed, Bath & Beyond (BBBY)
The iconic domestic merchandise retailer needs no introduction. Despite the sector struggling as a whole, BBBY was able to benefit from stay-at-home through digital sales channels.

On Oct. 1, the company reported blowout Q2 results: surprise adjusted EPS of $0.50 vs. a consensus estimate of ($0.30), revenues of $2.69B vs. $2.62B estimated.

Shares are consolidating above $20, which has been a key resistance level for the last few years.

Considering the stock has a whopping 61% short interest, I'm keeping an eye on the $19 area (a previous resistance level) for potential entries.
I may look around the 8-day exponential moving average (EMA), which is just under $20 because that can be an area of support.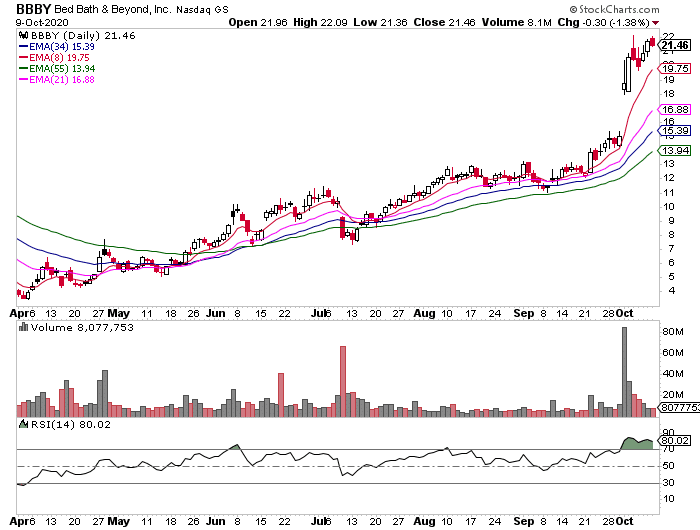 In this environment, I believe understanding price action and being able to recognize reliable chart patterns is crucial.
That's why I put together this Chart Patterns Cheat Sheet.
Inside, you'll find some of my favorite setups and how I utilize them to attack the market…
And uncover momentum stocks before they pop off.
Claim your complimentary eCopy here.
Flip through it when you're free. I believe you'll be surprised how easy it is for me to spot these patterns and how often they show up.