This week is going to be filled with action, and with the stimulus still being worked out…
Who knows what the market will do.
Whatever the case may be, I'm getting a jump on the week and developing some trade plans in options on large-caps.
With the way the market has been acting, I find it's easiest to focus on the price action and look for key levels ahead of time.
This way, I'll be in a position to better time my trades.
There are three large caps I have on my radar this week, and I want to show you how I might trade them.
Apple Inc. (AAPL)
Apple has been one of the strongest large caps in the market and the biggest contributor to
SPY's breakout to all-time highs.
It's got an upcoming event, and it can get a little wacky… so I'm going to keep an eye on this
one because there could be an opportunity to take advantage of.
After a recent pullback, the stock seems to have found a base above $110. It is now inching
higher and holding steadily above major exponential moving averages (EMAs) – a sign of strong
support in this area.
Right now, there is one key level to keep an eye on for a potential entry (if I'm really aggressive, I'll look to purchase calls. If I'm a little more cautious, I'll sell a put spread if I'm bullish on AAPL).
AAPL wicked the 55-day EMA, and I think if there's a quick pullback, that area will serve as support and the buyers will step in.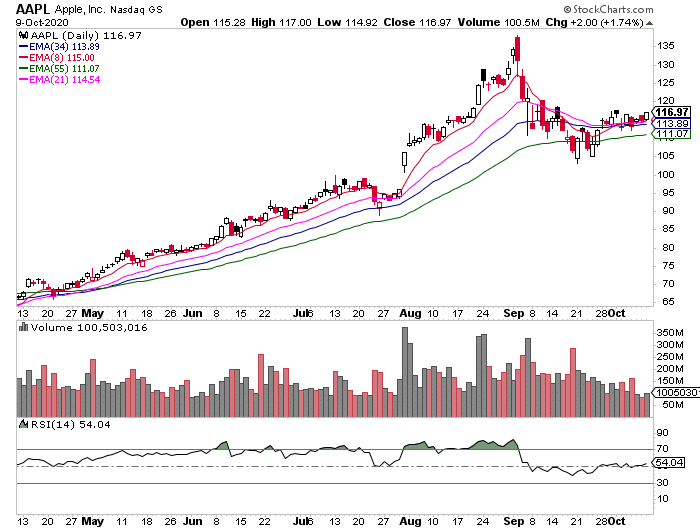 I'm keeping an eye on the $105 – $110 area.
Next up, it's every trader's favorite electric vehicle / energy company Tesla Inc. (TSLA).
Tesla Inc. (TSLA)
TSLA is up over 600% YTD – a giant feat for a company many considered overvalued to begin
With. I mean that goes to show you why it's so important to understand price action, in my
After it's most recent run up to above $2,500 in pre-split prices, the stock hasn't given back
much and yet again might be shaping up for a push higher.
Right now, the 55-day EMA looks like the big key support level. It's held up pretty well there, and
I believe there will be buyers stepping in, if it gets back to $380.
The stock is back above its 8-day EMA, and I believe opportunity will present itself soon.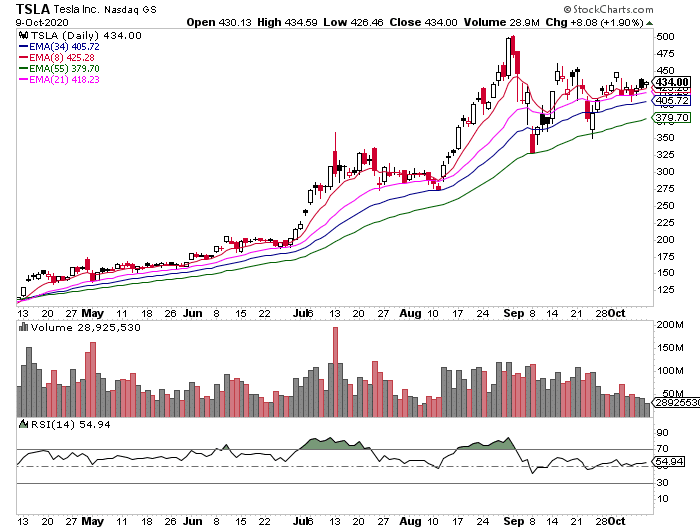 With TSLA, I'm going to remain patient, but for now… I think establishing a bull put spread can be advantageous. That means I would sell an out of the money (OTM) put spread around a key level. I think the 34-day EMA can hold up here too (it's just above the $400 level).
That means I might look to sell the $400 puts and buy the $390 puts, expiring say at the end of the week. That way, I'll collect premium if TSLA is above $400 by expiration.
Next up, there's Adobe Inc. (ADBE)
Adobe (ADBE)
The software giant has been on a steady grind since March lows and has demonstrated
incredible relative strength throughout.
It held up well through the most recent sell off as well – ABDE never gave back more than 12%
and quickly rebounded back to the highs.
The stock just bounced off 8, 21 and 34 days EMAs and is now pushing back above $500.
Key levels to watch:
55-day EMA for a potential entry, if it pulls back and there's demand… I wouldn't be surprised if it continues the trend and tries to test those highs around $535.
There are a number of ways to play this one. Right now, the bear call spreads look interesting (betting the stock won't break out and reach new highs within the next week or two)… the bull put spreads (the $470-$480 area looks interesting as a support level)… maybe calls if I'm aggressive and the stock holds around $470-$480.
Point being, there are a number of ways to play these stocks, and it's important to plan ahead.
I believe the best way is to utilize chart patterns, especially when there's so much noise in the market.
If you want to find out how I uncover plays using a few chart patterns, then you'll want to check out this exclusive Chart Patterns training workshop.
You'll learn how to uncover patterns in small-caps, but you'll realize that these patterns also pop up in large-caps.