If you know me, I'm all about the Fibonacci retracement — and right now, it's one strategy that comes in handy…
Especially when it comes to these small-cap stocks.
You see, there's one typical pattern when it comes to these names after they explode higher.
If they pull back into a key Fibonacci retracement level, it can find support… and if that holds, it's a signal the stock can retest the highs.
That said, I want to show you how I spotted the rest and retest pattern in DNK and which stocks to potentially use the Fibonacci retracement on.
I'm sure you've seen stocks explode higher, and you wonder whether you should chase them or not…
If you haven't, that's good to hear because that means you're not trading off emotions.
If you are, it means you're prone to having FOMO and you'll need to fix that behavior in my opinion. If you let emotions get the best of you, you might buy the top in a stock and just watch it go against you significantly…
Which can damage your trading account.
So let me show you a solution.
Check out Phoenix Tree Holdings Ltd. (DNK).
On Friday, at 10:01 AM ET, I let subscribers know I was getting long DNK because of the Fibonacci retracement pattern.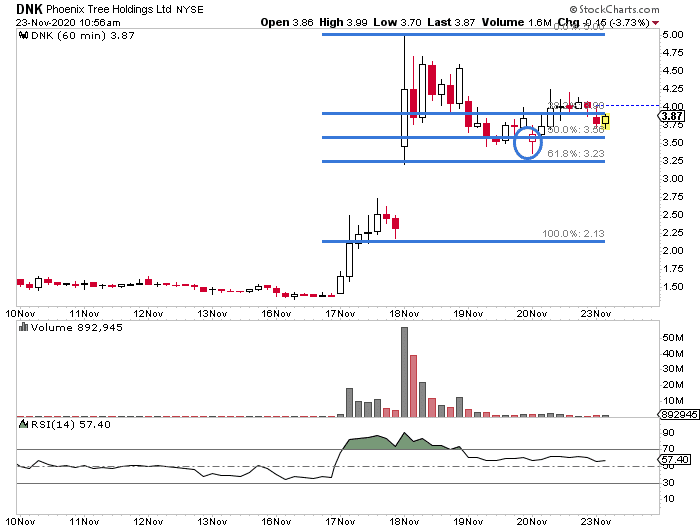 So if you look at the chart above, I uncovered the low point of this swing move. Let's call this $2.10 – $2.15. Thereafter, I found the high point, which was around $5.
Once I found those points, I just use the Fibonacci retracement pattern.
Here, there key levels to keep an eye on are 38.2%, 50%, and 61.8%.
So I actually purchased shares at $3.59.
Just a little over an hour later…
Here's what I sent out to subscribers on Friday…
4k of 7k DNK off the table +15% here at 4.09 +$2000, riding 3k shares to see where it wants to go, great start 
that's a nice friday volume squeeze right there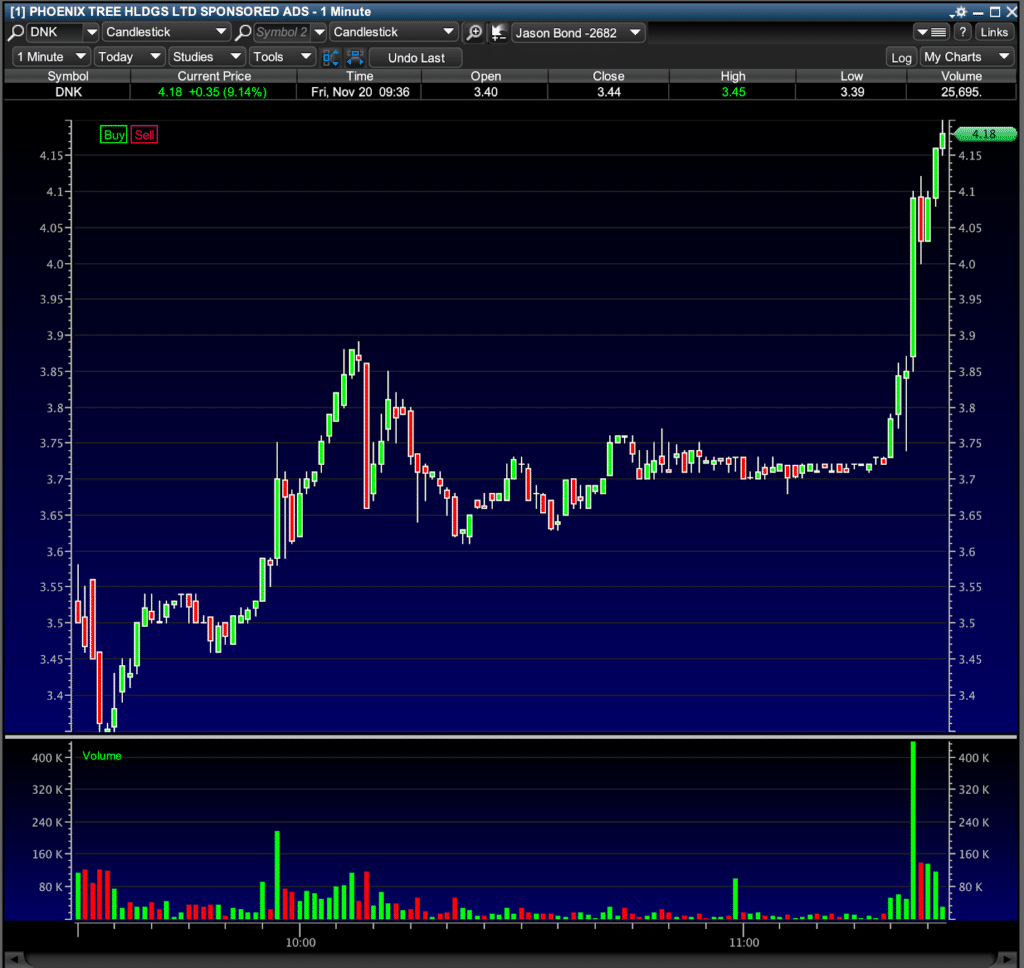 Shortly after I sold half…
I decided to take off the rest, and here's what I sent out…
took CBAT off 8.31 -1k and remaining DNK off at 4.02 +1200 more. net 2300 so far on day. trump press conference at noon, playing some defense with a nice start to my morning profit.
now my focus is swings headed into the weekend, less the markets turn higher here after the press conference, in which case i'll trade 1-2 more momentum stocks and then dial in for swings
What I believe to be a simple pattern helped me unlock those gains, so let me show you which stocks have the rest and retest pattern right now.
First up, with digital assets taking off…
DPW Holdings (DPW) is one name to watch for potential pullbacks.
So right now, the key Fibonacci retracement levels are $3.40, $3.14 and $2.88. If any one of those areas hold as support, it's a signal DPW can retest highs.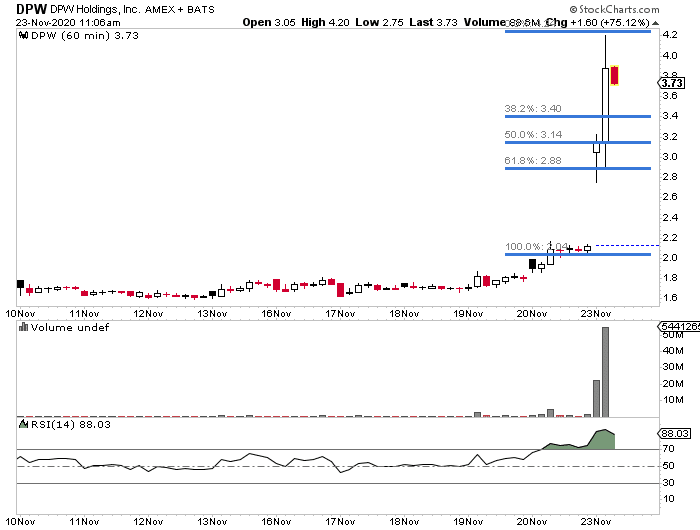 Next up, Riot Blockchain (RIOT) looks interesting as well.
It's important to wait and see what the stock does around this high because it can change at any point. Right now, I want to keep an eye on this for pullbacks. 
If RIOT does have a pullback, the key Fibonacci retracement levels will be in play.
Listen, this isn't the only pattern I have at my disposal. If you want to learn more about three of my favorite setups in the market…
Then make sure you attend this exclusive training session here.
If you're struggling right now, I truly believe this can be a difference maker and help you turn the corner.
Register for it now and learn how to develop an edge in the market.