Earlier this week, I mentioned one momentum stock to keep on the radar…
And it made the move right where I expected it to.
What stock am I referring to?
Gogo Inc. (GOGO).
On Sunday, I mentioned how there could be a positive catalyst and there was a bullish chart pattern…
Today I want to provide you with an update on GOGO and what I'm watching for in it.
You see, there are key levels and another pattern developing right now, and I think it's one stock to keep on the watch-list.
GOGO is the leading provider of broadband connectivity for airlines and it recently announced a positive catalyst when it came up on my radar.
Here's a look at what the stock is going on the daily chart when I mentioned it the other day.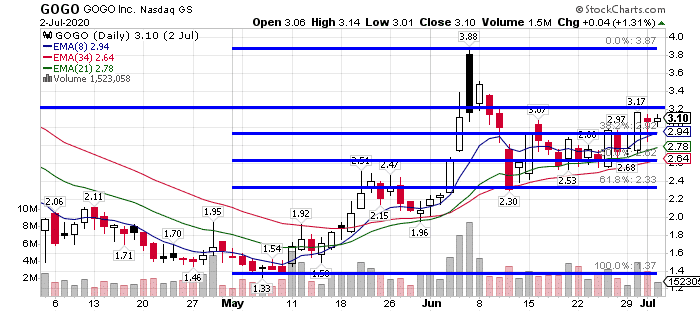 Source: StockCharts
The stock held key Fibonacci retracement levels, and it was prime to retest highs, in my opinion.
You see, when I notice this pattern and the stock holds the key support level, it typically retests the recent high. Here, it was $3.88.
With GOGO, there was a potential short squeeze in the works.
GOGO only has 52.07M shares floating.  Of those 52.07M shares floating, 45.73% are short.
When there's such a high short interest, coupled with a low float… there's not a whole lot of supply.
If there's an actual positive catalyst and the stock runs higher, momentum buyers step in and the shorts may look to cover.In turn that creates a scenario in which the stock can explode.
Well, on Tuesday, GOGO announced it was providing inflight connectivity beginning at 3,000 feet. The stock didn't move a whole lot off of that though.
However, there is another looming catalyst: the re-opening of states and more flights.
With positive developments in coronavirus treatment news on Friday… airlines gained, and consequently, GOGO caught a pop too…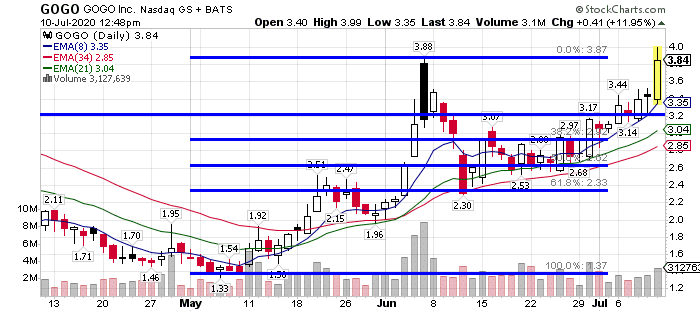 Source: StockCharts
At the time, I was looking for a move to the $4 area in GOGO… and I was pretty darn close, because it hit a high of $3.99 in the morning session.
What's Next For GOGO?
If flights do start to pick up significantly, I think GOGO can run higher and potentially return to February levels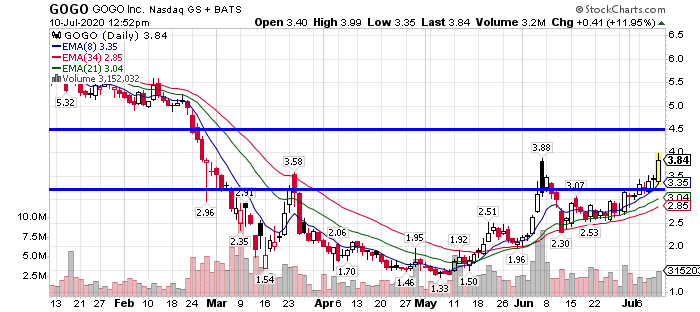 Source: StockCharts
Right now, the key level to keep an eye on is around $4. If it gets above that, I think GOGO can make a move to $4.5, and thereafter, $5 isn't out of the question.
With such high short interest, I wouldn't be surprised if a move to those levels happen quick.
This is one stock I believe traders should have on there radars.
Now, if you want to learn how I'm able to identify these trading opportunities using, what I believe to be, simple patterns… then you'll want to check out my latest eBook.
Inside, you'll find case studies, and my techniques to hunt down momentum stocks… BEFORE they run.