I know you're used to me talking about trading options on tech stocks…
But small-cap stocks have been on fire and for a lot of traders — they're still trying to figure out how to trade these fast-moving stocks.
I would be doing you a disservice if I didn't try to teach you all about them.
Now, for me personally, I have an edge in the market and been teaching subscribers how to trade these stocks for about a decade.
To be quite honest with you, I don't understand why more traders don't try to make money from these explosive opportunities.
So when I got the question, "Is it time to start trading small caps?" through my community number +1 (410) 210-4522 — I just had to answer it.
Of course, I think any market environment is the time to trade small-cap stocks…
However, I believe before anyone goes out and starts to randomly purchase these low-priced stocks…
They have to learn the lay of the land.
That said, let me walk you through one pattern I love to exploit on Fridays and how it helped me generate more than $10K on two positions.*
When it comes to trading small-cap stocks, I believe it's important to understand price action and patterns. Now, one of my favorite patterns is the Friday to Monday gap up.
In other words, I've found that early on Monday mornings, a slew of news is released and that can push specific small-caps higher.
For example, this morning, the Moderna (MRNA) announced it achieved a 94%+ accuracy for its coronavirus vaccine. 
That news sent stocks I was already long higher.
The key is to identify these plays ahead of time.
On Friday, I sent this out to Monday Movers subscribers, 
"My favorite setups over the weekend are PLAY, CHEF, CCL and RIOT. The first three are starting to garner attention now that Pfizer announced their vaccine is looking strong. CCL already did an offering so that eliminates some risk in my mind. These stocks are severely depressed from February highs still and that's why I'm attracted to them. They had big pops on the Pfizer news initially and I could see them moving again soon."
If you think about it, we knew there was news coming from other vaccine companies, which would put the economy back on track.
Two of the plays I laid out were in CCL and PLAY, two stocks that got wrecked during the pandemic.
Guess what happened to those stocks after the news hit the wire in the pre-market?
They exploded!
I used that catalyst to lock in my gains…*
At 7:13 AM ET, here's what I sent out.
off to a good start here. sold CCL at 17.03 just shy of 7% and $3,107.01 in realized profit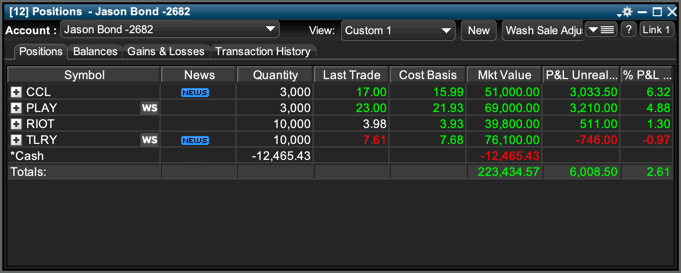 With PLAY, I had a limit order out at $24.30, and I was actually driving when my order got filled. That was good for +11%, or about $7300.*
Off of those two plays I was able to lock in more than $10K.*
Now, if you think this was a one off… then you're mistaken. There are plenty of catalysts that hit on Mondays.
Remember last Monday with the Pfizer (PFE) and BioNTech news?
Heck, there are even company-specific catalysts that come out on Mondays.
Again, the key is to get in on Friday and get out once the catalyst or news event hits. I want to show you how to identify these plays utilizing my Monday Movers Watchlist.
Given the way small-cap stocks have been gapping up Friday into Mondays, I genuinely want to show you which ones I think can take off every week.
Right now, you have an exclusive opportunity to lock in Monday Movers at a whopping 88% off. (It comes out to less than $2 per week).
I can't keep this deal open for long, so make sure you take advantage of it right now.