By now, you should know I'm always on the hunt for momentum trading opportunities.
On the weekends, I'm able to uncover some of my favorite chart patterns, which can signal a stock is poised to take off.
Now, there is one trend I've noticed in small-cap stocks, and no, it's not EV.
It's actually low-float stocks. If you don't know what a low-float stock is, it's a stock with a small number of shares available to trade. I like to think about it as the supply of the stock.
With these specific stocks, they can experience exponential moves… and I believe if you're able to spot these plays ahead of time, you can ride the waves of demand.
That said, let me show you which low-float small-cap stocks are on my radar… and why I think they can take off.
This week, I've uncovered three low-float stocks with some of my favorite setups. I can't guarantee they'll make a move, but they are on my radar.
VoxelJet (VJET)
A maker of commercial 3D printers

On Friday in after hours the company announced a German automaker has placed an order for additional 3 units of its high-speed 3D printer VJET X

The stock gapped over 30% after hours and held above long-term resistance of $11. It also has a nearly 40% short interest on a float of just 300k shares.

There are two ways to play this, get long once the stock breaks above the blue horizontal line, which was a previous resistance level. There's a triple top there, and some traders may get scared, but over the years… I've found triple tops typically don't hold.
Another way to play this would be to buy the breakout around $11 and hold on for a 10-20% gain, with a stop at say $10.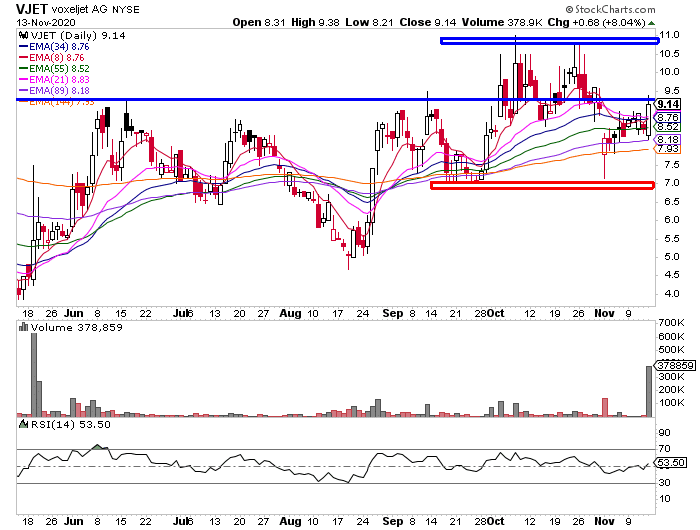 CBAK Energy Technologies (CBAT)
A Chinese electric battery producer and a beneficiary of the EV hype

The stock had a run up in September and has been sliding lower since, until the recent interest pick up across the EV sector gave it a boost

On Friday, on no specific news the company gapped above resistance in $4 area and closed strong at all time highs

A smart plan, in my opinion, is to trade the rest and retest pattern utilizing the Fibonacci retracement. That means one can look to get long on dips against $4.75 – $5 for a potential move into $7-$8 area
Greenland Technologies (GTEC)
A manufacturer of forklift transmission and drivetrain systems

On Tuesday the company announced it'll begin offering integrated electric drivetrains to its existing clients. The stock responded by closing nearly 150% higher, reaching a gain of as high as 400% in the day

Shares have not been giving back since, grinding higher on low volume

One way to play this would be to get long started against $5 – $5.50 and add on the break of resistance at $7.5 for a move above $10.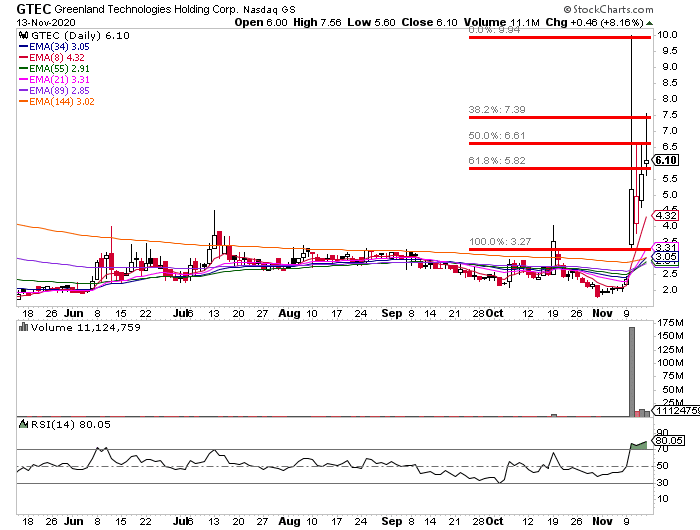 You've probably seen how crazy some of these small-cap stocks have taken off recently, and one of the reasons this happens is because there's a low float.
Now, if you can pair chart patterns with these supply & demand dynamics, then I genuinely believe you can uncover momentum stocks poised to take off.
If you want to learn more about my favorite setups, then you need to grab an eCopy of my latest training manual here. Only a limited number of copies remain! Don't miss out.