Hello trader,
It's a traders' market… at least that's what many are saying on the street. I don't know about you, but waking up to a massive gap down on Monday, then a rally on Tuesday? It's hard to find a clear direction in the overall market.
Right now, it's so easy for traders to get caught up in the headlines… whether it be from earnings, politics, or all the coronavirus headlines. We saw Hong Kong drop by nearly 3% after its extended break for the Lunar New Year… and that could spill over to our soil.
So what do you do when you can't find a direction in the overall market?
Look for trade ideas that have nothing to do with all the headlines — and only place bets on your highest conviction trade ideas.
At least that's what I did this week.
On Monday, I sent out my highest conviction trade idea to my Jackpot Trades clients… and guess what?
The trade idea had nothing to do with what the market was doing… in fact, it just had to do with a company-specific catalyst and a bullish chart pattern.
How exactly did I spot the trade?
When I was looking for my highest conviction trade idea, I spotted Miragen Therapeutics (MGEN). The stock popped on Friday, and the rocket pattern showed up… all while we saw weakness in the overall market.
Just take a look at the daily chart in MGEN below.
This stock didn't care what the overall market was doing… so I figured it would be the perfect Jackpot Trade idea of the week.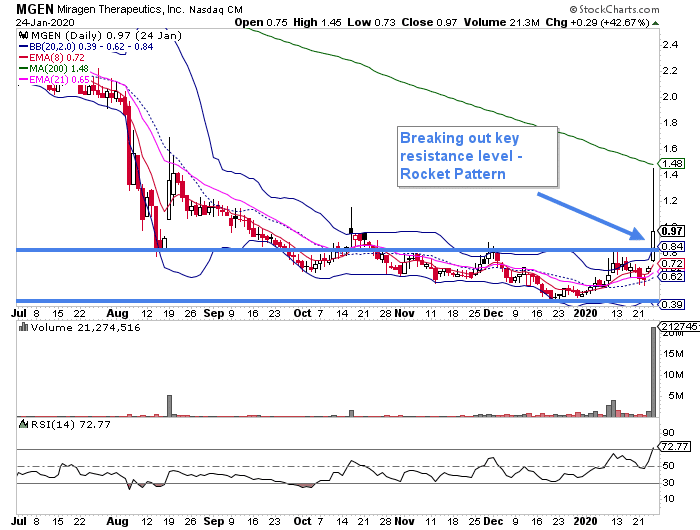 If you look at the chart above, the stock broke above key moving averages (the 8-day exponential moving average (EMA) and the 21-EMA). Not only that, but the stock broke above a key resistance level.
That signaled to me the stock could rocket higher.
Now, that wasn't the only thing MGEN had going for it. In fact, the company was expected to report data at the end of this week. Generally, when there's a catalyst event, especially in a biotech name… they tend to run higher.
Well, that's what I expected MGEN to do.
Here's what I sent out to Jackpot Trades clients on Monday.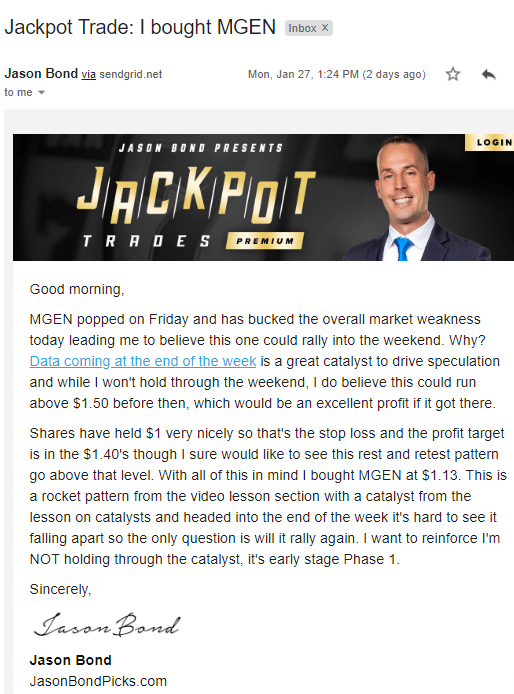 I didn't only provide the trade idea… I also provide them with a detailed trade plan. MGEN was holding the $1 level, so that would've acted as a support level, in case things went sour. So if MGEN broke below that, it would've been clear the pattern was broken and signaled you to stop out.
Not only that, but there was a target in mind. The $1.40s was a great level to take profits.
Well, guess what happened on Monday?
The stock made the move I expected!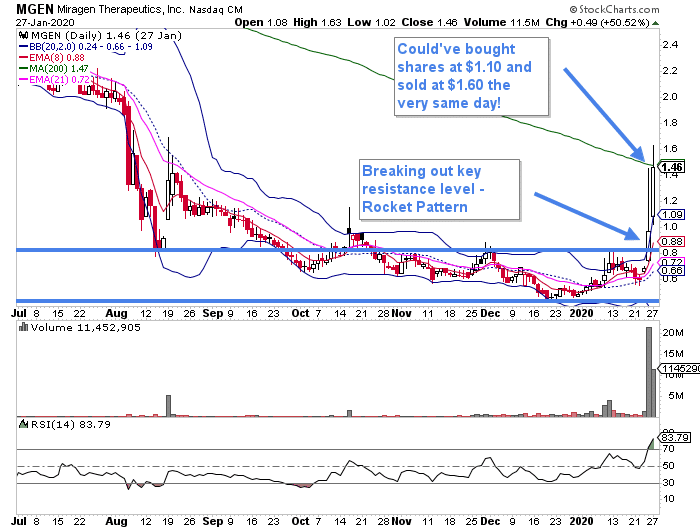 Now, you could've bought shares at $1.10 and put a stop-loss just below $1. Thereafter, you could've put a limit order to sell half at $1.45, and the rest at $1.60. That means you could've made as much as 45% in just a single day.
However, I figured this stock had some legs… and once it broke above the 200-day simple moving average (SMA) — the green line in the chart above, MGEN could've gained momentum and continued higher.
I decided to hold onto my position for another day to see if I could juice some more profits out of MGEN. There wasn't a signal that the stock could pull back and hurt me.
Tuesday Morning, I sold my position in the $1.60s and locked in a near 50% winner, or $10K in profits!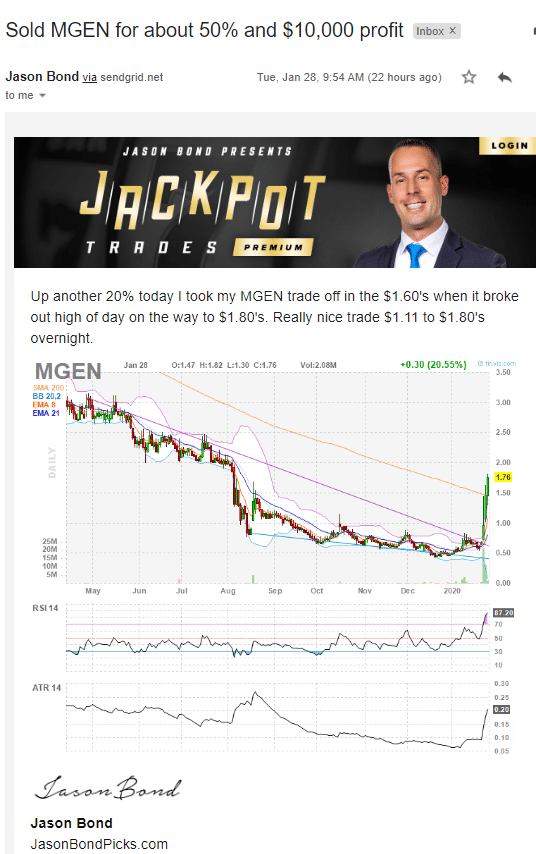 (Stop hearing about these winners after the fact, and get my best trade idea delivered straight to your inbox on Mondays. Click here to join Jackpot Trades now)
The thing is… if you were confident in the trade, you could've generated a near 80% return because MGEN got all the way to $1.97 yesterday.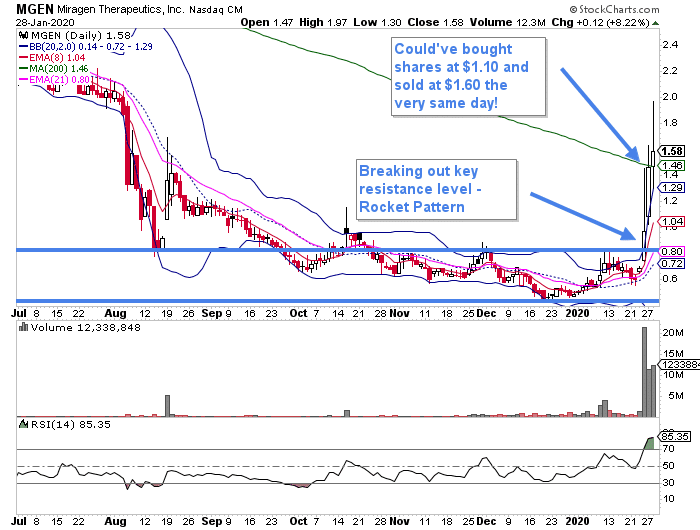 I'm not kicking myself because I missed the entire move… I'm stoked I locked in a 50% winner.
Now that I'm out of my Jackpot Trade this week… I'm looking for my next best trade idea. My next Jackpot Trades drops in just a few days — don't miss out, and head into the week in a position to profit!