There's so much uncertainty in the market right now, and traders are expecting volatility to continue to pick up.
With the way the price action has been, some traders are getting jumpy and they may panic.
To be honest with you, I don't think it's time to get on the defensive and stay on the sidelines.
Why?
Momentum stocks are popping off. 
I mean we've seen stocks like CBAT, UONE, SPI, TATT, NETE, SUNW take off — and that tells me there are still plenty of opportunities in the market, if you know where to look.
Allow me to show you which stocks I believe can take off next, and how I may look to play them.

When it comes to trading momentum stocks, I like to stick with chart patterns and catalysts. These three stocks I'm about to show you have been hot, and I want to show you which catalysts I'm noticing, and specific levels I have my eye on.
Cardiff Oncology (CRDF)
This is a clinical Stage pharmaceutical company developing cancer treatments

On Sep. 17, the company presented at a major European Oncology conference, indicating its lead drug, onvansertib, is showing promise in treating multiple types of highly-mutative cancers

The stock caught a price target raise from Maxim – price target was raised from $6 to $14, buy rating reiterated

The market has been enthusiastic about the news – stock is up over 80% since the announcement and more than 1000% YTD

CRDF

is currently consolidating above $10, very close to its recent all-time highs

The stock is in a bull flag / pennant patter, and I think it makes sense to look around the $10 – $10.50 level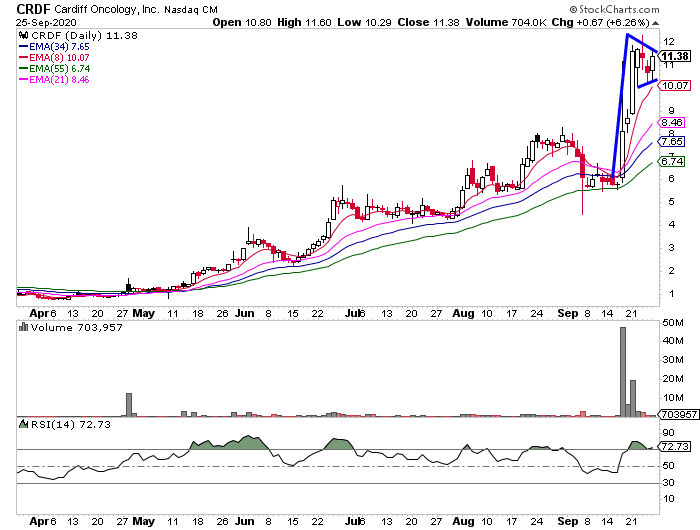 Next up, SAVA is on my radar.
Cassava Sciences Inc (SAVA)
A clinical-stage biotechnology company that develops drugs for nervous system disorders like Alzheimer's Disease

On Sep. 3, the company announced it was granted a U.S. Patent on its lead drug candidate

The number of people living with Alzheimer's is expected to increase dramatically over the next few years, according to the Alzheimer's

Association

The company published Phase 2b results on Sep. 14, which have shown significant improvements in patients

Maxim Group upgraded the stock with $14 price target and H.C.Wainwright & Co with $20 price target

Insider buying: on Sep. 24, the director bought 10,000 shares of the stock at $9.59
The stock has set new 52 week highs today with a bullish volume pattern. In my opinion, if SAVA closes above $12 next week we might see a massive breakout with an intermediate-term target of $15.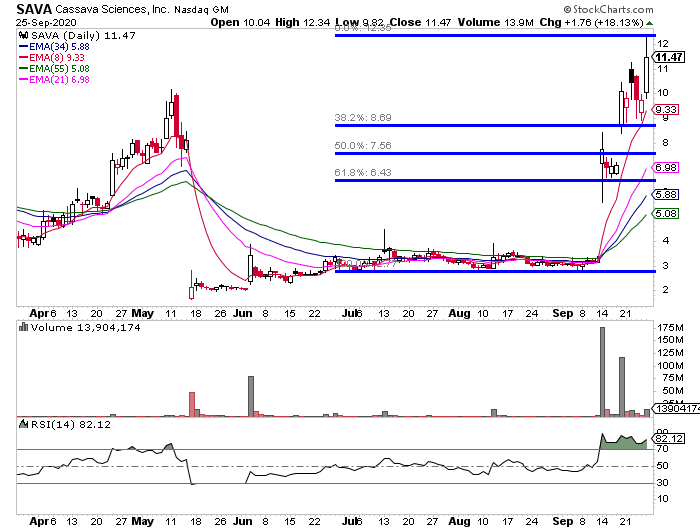 Scientific Games (SGMS)
The company provides gambling and lottery products to a wide range of customers all over the world

On Sep. 14, a renowned investor Ron Perelman announced the sale of his 34.9% stake in the company to Australian fund Caledonia for $28 per share – a premium of nearly 40% from the prior day's close

The transaction's valued the company at $2 billion

Jefferies upgraded the stock to $50 from a prior target of $20. 

The stock closed at $35.42, up over 900% from March lows

It's also breaking above a major $30 resistance area – hasn't been able to hold there in over 2 years.

I like it consolidating above highs and will be looking to join any dips against $30
There are plenty of opportunities in the market, the key is identifying chart patterns and specific catalysts and planning the trades ahead of time.
Let me show you some of the themes I've picked up on in the market, and where I see the most opportunities right now. Click here to watch this exclusive training session.